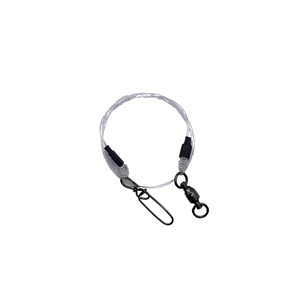 Musky Innovations Fluorocarbon Leader 80lb x 18"
Regular price
$16.00
$16.00
Unit price
per
Our new InvisiLeader technology makes other "innovations" in leaders looks pretty ordinary. why use steel leaders that are highly visible and kink, or spend loads of money on titanium leaders that are just as visible as the steel leaders used 50 years ago? InvisiLeaders is a leader that is virtually undetectable under water due to the fact that fluorocarbon has a very similar refractory index to that of water. Once you try these new leaders, you will never use 50 year old technology again. These leaders give the appearance that you bait is swimming on it's own through the water, and make no mistake, more fish will strike you bait because it looks more like the real thing. 
The swivels and snaps are the best available on the market and they eliminate line twist as well as keep your bait firmly attached to the leader. fluorocarbon is a very hard material and resists bite-offs very effectively. unlike steel, fluorocarbon will never fail due to kinking. we have the right leader for your fishing situation. 
---
Share this Product
---